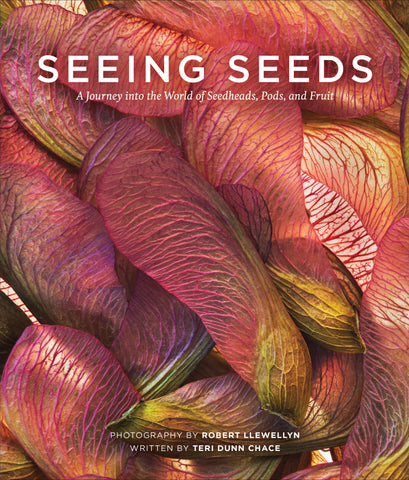 Seeing Seeds
"Llewellyn's images reflect a depth of detail that until now, only the best botanical illustrators could approach." —The Washington Post

A centuries-old saying goes, "Great oaks from little acorns grow." But as this dazzling book reveals, there is much more to a seed than the plant it will someday become: seeds, seedheads, pods, and fruits have their own astounding beauty that rivals, and sometimes even surpasses, the beauty of flowers. Bitter melon seeds resemble a handful of rubies. Poppy pods could be art nouveau salt shakers. And butterfly vine seeds look exactly like those delicate insects captured in mid-flight. 

Seeds also come with fascinating stories. Jewels of Opar got its name from a fabled city in Edgar Rice Burroughs's Tarzan stories. Lotus seeds sent into orbit by Chinese scientists came back to earth mysteriously altered. And fava beans—beloved of foodies—have a Jekyll-and-Hyde personality: they can cause the debilitating condition known as favism in some individuals and at the same time combat the microorganism that causes malaria.

In these stunning pages you'll gain an understanding of how seeds are formed and dispersed, why they look the way they do, and how they fit into the environment. Seeing Seeds will take you to strange and wonderful places. When you return, it's safe to say that you'll never look at a seed the same way again.