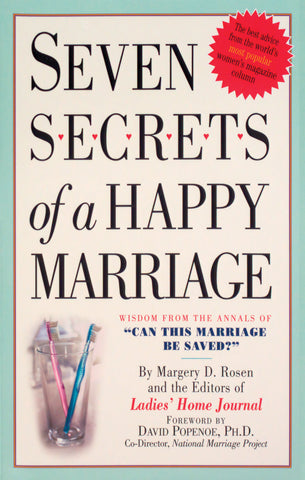 Seven Secrets of a Happy Marriage
Every marriage has problems. The pressures are real and never let up: money, children, fidelity, the endless little decisions. So when one shares their troubles, every other couple can relate—and learn.

Riveting in their "she said, he said" format and filled with intimate detail, the dozens of real-life stories in Seven Secrets of a Happy Marriage draw readers behind the closed doors of other people's lives and into the therapist's office, where conflicts are laid bare and solutions tendered.

And as the editors of the Ladies' Home Journal column "Can This Marriage Be Saved?" have learned in five decades of publication, these profiles of marriages in crisis reveal the seven underlying truths of successful relationships: trust, communication, fair fights, a balance of power, an understanding about money, good sex, and the willingness to make your partner your priority.

An interactive workbook section with quizzes, self-appraisals, and exercises helps readers and their spouses recognize and resolve their own trouble spots.