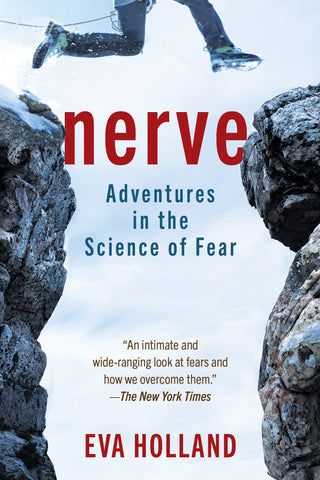 Nerve
"In a plague year where our worst fears are real but unseen, possible but indefinable, this book could not be timelier."—Rolling Stone

Frozen in terror during a mountain descent, award-winning journalist Eva Holland reaches her breaking point. Since childhood, she's been gripped by two debilitating phobias: fear of losing her mother, and fear of heights. The worst has already happened: Eva's mother died suddenly and unexpectedly in 2015. But now—after an arduous, embarrassing, and tearful finale to her ice-climbing expedition—Eva decides, enough. Fear may define her past, but she won't let it dictate her future.

Thus begins Holland's quest to renegotiate her inhibiting relationship with fear. In stirring, raw prose, she reveals what it's like to live in the clutches of paralyzing dread. And with remarkable courage, she tests the limits of what one can do to live less fearfully—from engaging in daring adventure to cutting-edge research: She confronts her acrophobia by jumping out of an airplane, explores the lives of rare individuals who feel little or no fear, and meets with scientists working to eliminate phobias with a single pill.

Of course, one doesn't have to go out of the way to face fear; by horrible coincidence, a series of freak accidents leaves Holland deeply shaken. Determined to stay the course, she seeks out a surprisingly effective treatment involving eye movement—to reckon with lingering trauma and anxiety to rid herself of intrusive memories and panics while driving.

Ultimately, Holland's odyssey sheds light on universal questions: How do we feel fear, and why? Is fear necessary? Is it rooted in the body or the mind? And it brings her ever closer to knowing: Is there a better way to feel afraid? Finding the nerve to face down her fears, Holland not only shows us how to grapple with our own, but invites us to embrace them as a way to live happier and feel more alive.