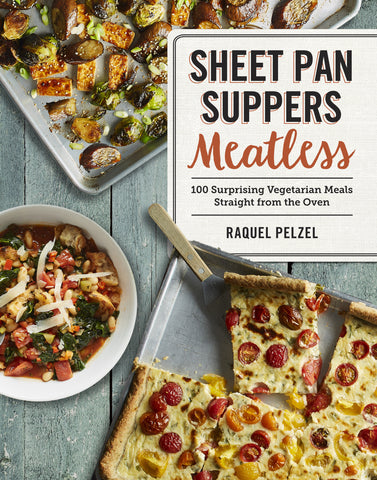 Sheet Pan Suppers Meatless
Say YES to the SHEET PAN! Vegetable-forward cooking never tasted so good!

YES, it's easy: It's the one-pot meal, reinvented. Along with a sharp knife, a wooden spoon, and a reliable oven, the sheet pan is all you need to get a great dinner (or lunch, breakfast, or dessert) on the table. YES, it's delicious: The sheet pan uses three techniques - roasting, baking, and broiling - that intensify flavors. It's pure satisfaction, without the eat. YES! Soup in a sheet pan! And yes, Sheet Pan Chili, No-Boil Mac and Cheese, Spicy Thai Green Curry Potpie, not to mention grian bowls and bahn mi, risotto, tacos, chilaquiles and savory slab pies, breakfast streusel and a Rustic Pear Galette. It's pure creativity on a sheet pan.