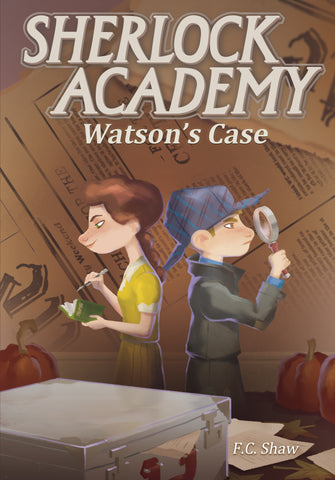 Sherlock Academy: Watson's Case
Book 2 of the #1 bestselling Sherlock Academy Series!

Stolen tools, holes in the walls, secret codes hiding in plain sight. . . 

Even more mysteries await Rollie Wilson this month at the Sherlock Academy of Fine Sleuths. It has been several weeks since the evil Herr Zilch tried to steal from the academy's secret library. When Rollie finds a note from Zilch in a wastepaper basket, Headmaster Yardsly asks Rollie to help discover who Zilch's "mole" is. With Cecily at his side, Rollie is determined to catch the spy, all while dealing with his odious roommate, his mysterious great-aunt, and the school's new teacher. 

What's more, Rollie's Great Auntie Ei has sent him an antique newspaper from 1894 reporting on one of Sherlock Holmes's cases. What appears to be old news is actually a secret map hidden within the paper's pages. Rollie must decipher the map, then discover the Academy's secrets before the mole can hand them over to Herr Zilch. 

Can Rollie thwart Zilch's plans? Will his family remember his birthday? Can he solve the mystery of his missing roommate?