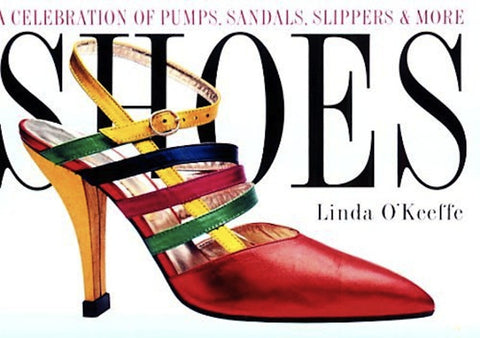 Shoes
The Marabou Mule. The Chanel toe. Jackie O's pump. Marilyn's stiletto. And lotus shoes and fetish shoes, shoes made for coronations and inaugurations, Cinderella's slipper, shoes of tulle, brocade, rhinestone, python, fish scales, and feathers, and much, much, more, including the two-foot-high wooden chopines of the 16th century and their resurgence as the platform shoes of the 1960s and 1970s.

Shoes, now with over 357,000 copies in print, is an obsessive, over-the-top extravaganza-chunky, full-color, and irresistible, it contains page after page of seductive photographs and information about women's shoes.

Created for the woman who's a passionate shoe lover-and what woman isn't?--Shoes features over 1,000 glorious photographs, most of them taken for the book. Includes Footnotes (fascinating facts about shoes); Foot Soldiers (profiles of master shoemakers from David Little to Andrea Pfister); and The Shoe that Left an Imprint, focusing on one shoe that changed history-remember Courrage's futuristic go-go boot? Shoes is, as they say, to die for.