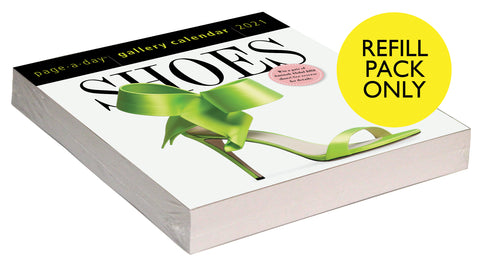 Shoes Page-A-Day Gallery Calendar 2021 Refill Pack
This is a refill pack for the Gallery Calendar. It includes the pages of the Shoes Page-a-Day Gallery Calendar 2021, but there is no plastic backer included. 

Obsession meets haute couture.

Like a yearlong fashion magazine, with the lush, full-color photography to match. Shoes revels in fabulous, imaginative, covetable shoes—the kind that empower us to walk (or strut) with confidence. Miu Miu's sparkly sneakers, where high fashion and street style converge. Vintage pumps, fit for a femme fatale, from Roger Vivier. Manolo Blahnik's iconic stiletto spikes. There's a perfect fit every day. Adapted from Linda O'Keefe's international bestseller. Plus, the chance to win a pair of Aminah Abdul Jillil shoes. Visit pageaday.com/contents to enter!

Page-a-Day® Gallery Calendars include 160 sheets of glossy, high quality paper printed with gorgeous full-color photographs.