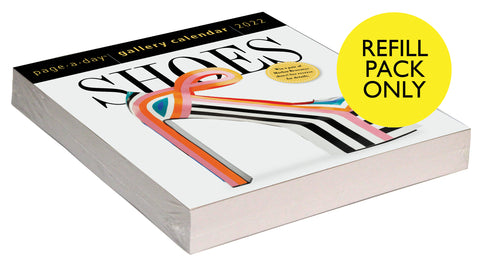 Shoes Page-A-Day Gallery Calendar 2022 Refill Pack
This is a refill pack for the Gallery Calendar. It includes the pages of the Shoes Page-a-Day Gallery Calendar 2022, but there is no plastic backer included. 

Shoe lovers, indulge your obsession.

Fantasize about stepping out in Aminah Abdul Jillil's exquisite "Tuxedo" sandal with crystal-studded bow. Or Ganor Dominic's calf-hair mule with mask-embossed vamp and jeweled buckle. Or a classic Terry de Havilland suede and leather applique platform pump. Plus funky sneakers, outrageous boots, and shoes that are pure art, like Carolin Holzhuber's "Symbiosis" cantilevered mules. This calendar is a tribute to the world's most amazing footwear, gorgeously photographed and reproduced in full color. Plus, the chance to win a pair of Marlou Browaeys shoes—visit pageaday.com/contests to enter! Printed on FSC-certified paper.

Page-a-Day® Gallery Calendars include 160 sheets of glossy, high quality paper printed with gorgeous full-color photographs. Each calendar is packaged in a clear plastic box that opens into a desktop easel for elegant, inspiring display.