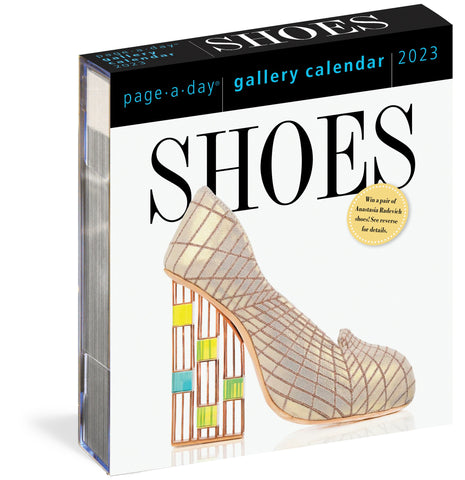 Shoes Page-A-Day Gallery Calendar 2023
 So many shoes to try on for size—even if only in your imagination.

Shoes is packed with fabulous footwear, beautifully photographed and reproduced in full color. The elegant: Rupert Sanderson's crocodile-embossed "Solitaire" leather pump with jeweled buckle. The nautical: a sculpted rope slingback sandal from Krístina Vontszemiivá. The sporty: Tori Abrahams's colorful leather sneaker with chunky white sport sole. The out-there: Joe Snacken's mirror-finish laser-cut boot with smiling daisies from Takashi Murakami. Plus vintage shoes, including a panne velvet and leather flapper shoe with a harlequin motif. Every day, it's a new pair to indulge the shoe lover's obsession. Printed on responsibly sourced paper.

Page-a-Day® Gallery Calendars include 160 sheets of glossy, high quality paper printed with gorgeous full-color photographs. Each calendar is packaged in a clear plastic box that opens into a desktop easel for elegant, inspiring display.