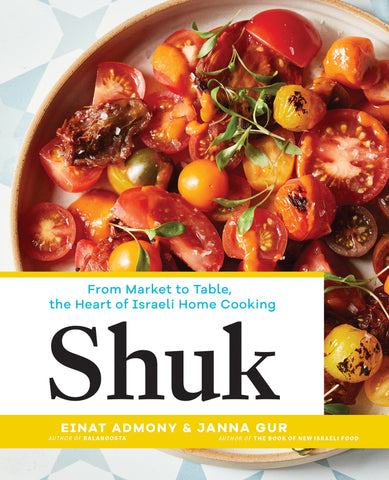 Shuk
A Library Journal Best Cookbook of the Year

IACP Award Finalist

"SHUK shouts 'Cook me!" from every vibrant page."
—Boston Globe

"Fascinating. . . . This energetic and exciting volume serves as an edifying deep dive into Israeli food market culture and cuisine." 
 —Publishers Weekly, starred review

With Shuk, home cooks everywhere can now inhale the fragrances and taste the flavors of the vivacious culinary mash-up that is today's Israel. The book takes you deeper into this trending cuisine, through the combined expertise of the authors, chef Einat Admony of Balaboosta and food writer Janna Gur. Admony's long-simmered stews, herb-dominant rice pilafs, toasted-nut-studded grain salads, and of course loads of vegetable dishes—from snappy, fresh, and raw to roasted every way you can think of—will open your eyes and your palate to the complex nuances of Jewish food and culture. The book also includes authoritative primers on the well-loved pillars of the cuisine, including chopped salad, hummus, tabboulehs, rich and inventive shakshukas, and even hand-rolled couscous with festive partners such as tangy quick pickles, rich pepper compotes, and deeply flavored condiments. Through gorgeous photo essays of nine celebrated shuks, you'll feel the vibrancy and centrality of the local markets, which are so much more than simply shopping venues—they're the beating heart of the country. With more than 140 recipes, Shuk presents Jewish dishes with roots in Persia, Yemen, Libya, the Balkans, the Levant, and all the regions that contribute to the evolving food scene in Israel. The ingredients are familiar, but the combinations and techniques are surprising. With Shuk in your kitchen, you'll soon be cooking with the warmth and passion of an Israeli, creating the treasures of this multicultural table in your own home.