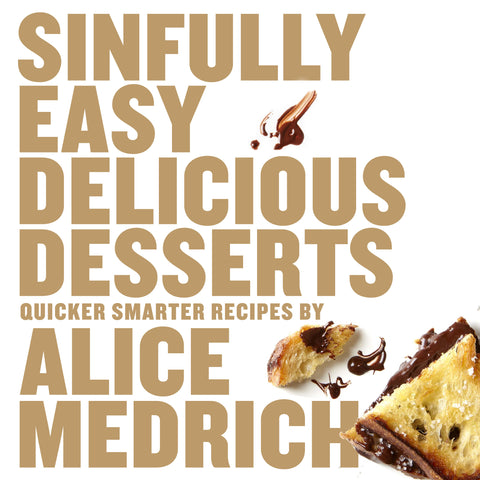 Sinfully Easy Delicious Desserts
Homemade desserts just got quicker, easier, and smarter

Alice Medrich rewrites the dessert menu for cooks in search of totally doable desserts without hours of prep. In Sinfully Easy Delicious Desserts, you'll find the quickest lemon tart, a lattice-free linzer (mixed entirely in the food processor), one-bowl French chocolate torte (yes, the real thing, but easier to make), imaginative ways with ice cream, chic puddings and mousses to swoon over, and gooey pies with no-fault press-in crusts. Even soufflés for beginners. And you won't need a rolling pin, a pastry brush, or the skills of a professional baker.   As always, Alice's recipes are foolproof and well tested, and her tips for success will make all cooks—even those nervous about baking—confident in the kitchen.  

     Plus there are more than 100 ideas for spur-of-the-moment desserts that don't even involve baking, including fantastic ideas for ways to dress up a bar of chocolate, a pint of strawberries, a handful of dried fruit, fresh cheese, gingerbread, amaretti, and more.

     And of course all those spot-on combinations for which Alice Medrich is so well known, such as Grilled Pineapple with Coffee Ice Cream, Lemon-Scented Peach Crisp, Salted-Caramel Banana Bread Pudding, and Coconut Pecan Torte.