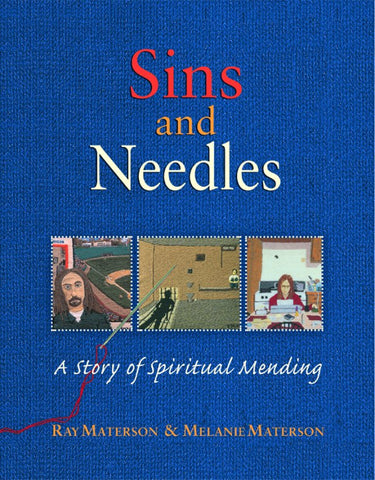 Sins and Needles
Ray Materson wanted to be a priest when he grew up. He was an A student and sixth-grade class president. But in college Ray began drinking, which led to drug experimentation, which devolved to an addict's life of living fix to fix. Finally, petty acts of theft and the end of loans from friends led to carjacking with a toy gun and a sentence of twenty-five years behind bars.
One miserable day in prison, Ray remembered an image of his grandmother sitting on the porch with her embroidery. At about the same time, the University of Michigan was to play in the Rose Bowl. Improvising a needlework hoop, Ray made a maize-and-blue Michigan M so he could officially cheer his team to victory. Soon Ray was sewing small flags and emblems using threads pulled from socks for pieces commissioned by fellow inmates, who paid him with cigarettes. Over time his work became more intricate-miniature masterpieces that told stories from his past and illustrated his dreams for the future. In stitching his artwork, Ray found hope and salvation.
Enter Melanie, a woman who sees Ray's work in a local exhibition and writes him a fan letter. Ultimately she marries him while he's still in prison. With Melanie's encouragement and perseverance, Ray's artwork gains national attention and is a smash hit. To this day, his work is represented by the American Primitive Gallery in New York.
Illustrated with fifty pieces of Materson's artwork, Sins and Needles is the riveting story of Ray's journey-of how a broken man manages to put the pieces of his life together in a most unexpected way.