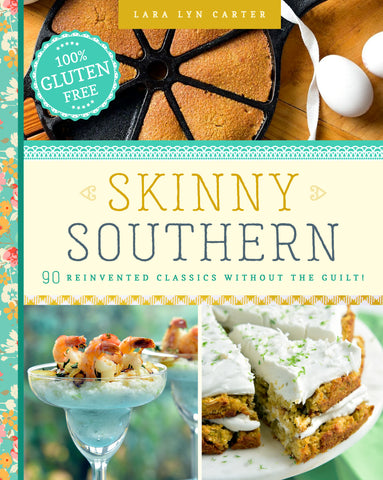 Skinny Southern
Skinny Southern? You heard right. America's uniquely delicious comfort food just got healthy! The recipes in this cookbook don't just just "lighten up" Southern food—they offer gluten-free and paleo options as well. It's the Southern cuisine you know and love, at it's very finest.
With 90 reinvented Southern Classic entrées such as truffle and rosemary chicken, or grilled lamb with sweet onion sauce; dabble with the citrus vinaigrette; sample the seafood gumbo, the quinoa salad, or the spaghetti squash with pecan truffle oil and herbs. You won't regret it!
Private chef and Emmy-Award winner, Lara Lyn Carter is considered Georgia's go-to authority on Southern entertaining. She's converted to healthy, clean cooking and shares her vast experience and array of healthy Southern recipes in this groundbreaking cookbook, an invaluable addition to any health-conscious kitchen.