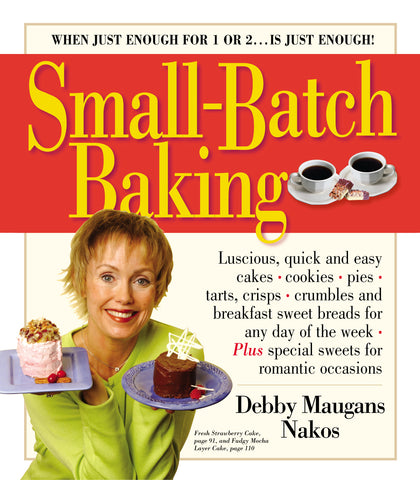 Small-Batch Baking
Small-Batch Baking is how to have your cake, and eat it all too. It's baking a plate of cookies (not 4 dozen) to greet the kids when they come home from school, or a few muffins (not 12) when that's all you need for Sunday brunch. It's for the perfect tart to end a small, romantic dinner--or the indulgence of a one-bowl dessert just for you (Honey Apple Oatmeal Crisp, anyone?). Most of all, it's to bring home the joy of baking, when home is just the two of you--small batches whip up quickly, clean up quickly, and don't require hours at the oven.

Written by Debby Maugans Nakos, who clearly possesses the Southern baking gene, Small-Batch Baking offers 200 irresistible recipes from across the baking spectrum: triple layer cakes, bundt cakes, angel food cakes; pies and tarts; cobblers, crisps, crumbles, and short cakes; cookies, bars, squares; biscuits, muffins, scones, breakfast breads; and a whole section just on Valentine Specials--Double Hot Chocolate Soufflés, Chèvre Cheesecakes with Honey Anise Ginger Syrup, Vanilla Banana Caramel Flan.

A batch of Cream-Filled Chocolate Cookies--that yields a half-dozen. A Coconut Layer Cake, just for two. Individual servings of Cinnamon French Toast Pudding or Southern Peach Cobbler with Bourbon Cream. It's all the bewitching pleasure of home-baked, but--finally--for just one or two.