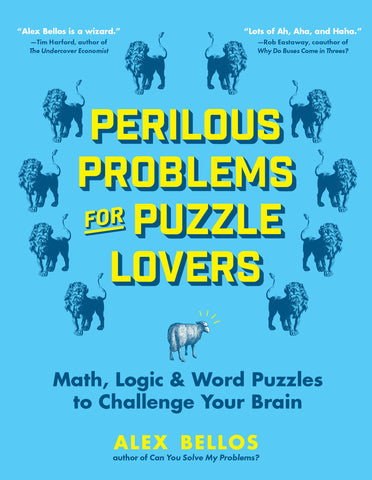 Perilous Problems for Puzzle Lovers
Put your wits—and survival instincts—to the test!

Publisher's Note: Perilous Problems for Puzzle Lovers was previously published in the UK under the title So You Think You've Got Problems?

In Perilous Problems for Puzzle Lovers, Alex Bellos collects 125 of the world's greatest stumpers—many dangerous to your person, and all dangerous to your pride. Brace yourself to wrestle with wordplay, grapple with geometry, and scramble for survival. For example . . .

Ten lions and a sheep are in a pen. Any lion who eats the sheep will fall asleep. A sleeping lion will be eaten by another lion, who falls asleep in turn. If the lions are all perfect logicians, what happens?

Bellos pairs his fiendish brainteasers with fascinating history, so you'll meet Alcuin, Sam Loyd, and other puzzle masters of yore—in between deranged despots and wily jailers with an unaccountable taste for riddles. Will you make it out alive? And what about the sheep?