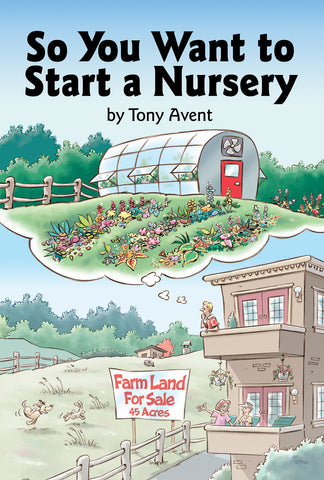 So You Want to Start a Nursery
When Avent announced that he was quitting his job to build a specialty nursery, his former horticulture professor begged his student to reconsider, telling him he couldn't possibly make a profit "without doing something illegal." More than ten years and 20 nursery catalogs later, Avent owns a thriving national business with nearly 30 employees. He wrote So You Want to Start a Nursery to debunk myths about the ornamental-plants nursery business and what it takes to succeed, whether you're a backyard hobbyist or a wholesale grower. (And he still has a clean arrest record.)

Assuming that the reader has some basic knowledge about how plants are grown, Avent focuses on the business and planning concerns of the nursery owner. While recounting humorous stories of his baptism by fire as a beginning nurseryman, Avent also provides a primer on the nursery industry as a whole, with discussions of the merits and disadvantages of retail, wholesale, mail-order, and liner operations, to name just a few. Readers of this book will obtain the tools they need to make a business plan of their own. This book is a must-read for horticulture students, industry insiders, and advanced gardeners who dream of turning their passion for plants into a job they love.