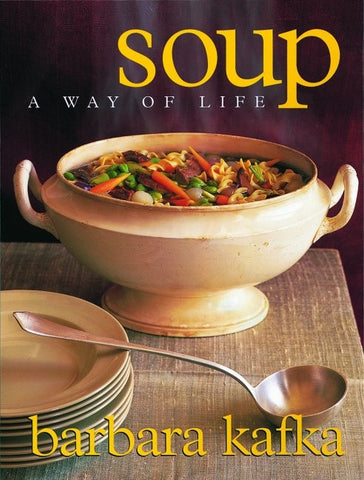 Soup: A Way of Life
"Dora, my maternal grandmother," writes Barbara Kafka in her new book, "started the soup tradition that means most to me, which is odd as she was, by all accounts, a bad cook....I hope I am a better cook, and my life has certainly been easier, but I learned from her that a pot of soup is warmth and welcome for family and friends alike."
In this stunningly rich and wide-ranging book, Barbara Kafka gives the food we love perhaps best in the world a new vitality. Though the subject is so familiar to us all, her approach is totally original, just as it was in her award-winning Roasting: A Simple Art and Microwave Gourmet. In a wonderfully diverse collection of nearly three hundred recipes from all over the world--some traditional, some newly minted, many so simple they require no cooking at all, each of them very much a part of our spiritual and emotional lives--she offers up a lifetime worth of pleasure:
icy soups for steamy days (ceviche soup with ginger) and hot soups for cold days (winter duck soup)
rustic potages (great green soup) and elegant consommes (beef madrilene)
simple soups to start (Moroccan tomato) and complex soups that make a meal (beef short ribs in a pot)
fifteen-minute specials (mussels and tomato soup) and those that simmer all day (pot-au-feu)
a magical garlic broth, among other vegetable broths and bases, gives vegetarians hundreds of recipes to enjoy

As always, Barbara's intelligence and talent for innovation have resulted in a vast body of ideas to make your life in the kitchen easy and interesting. Nearly thirty stocks are offered, as well as dozens of ways to use seasonal produce to cook and freeze soup bases for year-round fresh taste. You'll find cooking times for everything from dumplings and piroshki to noodles and pasta, simmering times for every possible cut of meat, and yields and blanching times for dozens of vegetables. There are easy-to-follow charts to answer every cooking question.

And then there's Barbara's "memory pieces." Woven through the recipes, they form a book within a book, one family's personal and culinary history. They're fascinating and warming and enriching on their own. They also remind us why soup is a vital part of our lives. And why Barbara Kafka is a vital part of our cooking experience.