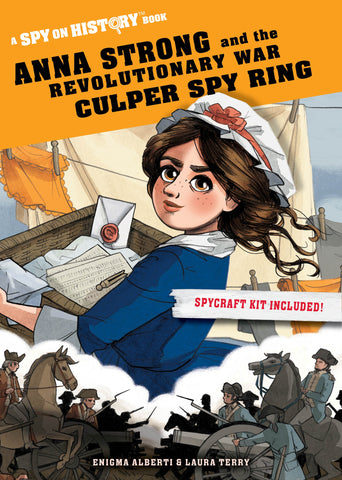 Anna Strong and the Revolutionary War Culper Spy Ring
Your Mission: Discover Anna's secret message using spycraft tools to uncover hidden codes!

It's a true story of the American Revolution:
Meet the secret Culper Ring, a network of American spies fighting against the army of British redcoats, and historical figures like George Washington and the soon-to-be-infamous Benedict Arnold. And meet Anna Strong, an unsung heroine who found ingenious ways to communicate top-secret messages to her fellow spies, helping to save the American colonies from British rule.
It's a mystery to solve:
There are clues embedded in the book's text and illustrations. Spycraft materials, including a cipher wheel, come in an envelope at the beginning of the book. Use them to decode Anna's hidden message and discover the secret mission she undertook for the Culper Ring!
2020 KNEA Reading Circle List Title