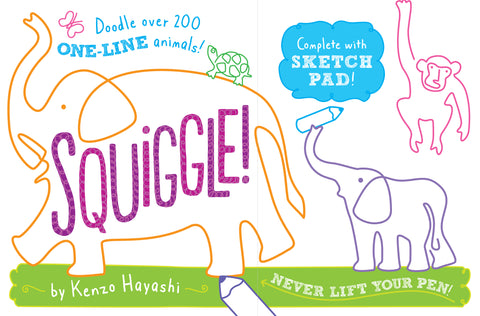 Squiggle!
It's a brand-new way to doodle, and an innovative way to learn to draw.

A squiggle is a one-line drawing. When you squiggle, you never lift your pen or pencil from the paper. And using this one line, Squiggle! shows kids how to draw over 200 animals. Animals with personality, like a fierce lion, a friendly elephant, a curious dolphin, and a whole field full of hopping, crouching, and resting bunnies. A squiggle can be as simple as a duck or as complex as a peacock.

Squiggle! also includes a connected doodle pad, so kids can practice drawing any animal side-by-side with the example. Each page is perforated so young artists can easily tear off their masterpieces to share with family and friends. And when the doodle pad is done, fold the extended cover into flaps so the book itself can last forever and keep inspiring creative one-line doodles.