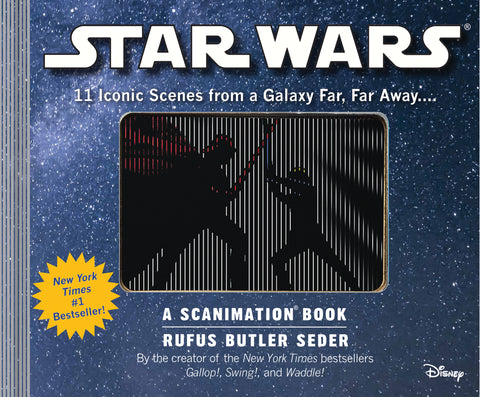 Star Wars: A Scanimation Book
Imagine: the first Star Wars book that actually moves, bringing to life the most memorable scenes from the epic: Obi-Wan battles Darth Maul The Millennium Falcon zooms away from an exploding Death Star Luke rides a galloping Tauntaun, Yoda twirls his green lightsaber, Boba Fett blasts up, up and away! And of course the most memorable scene of all—red and blue lightsabers flashing, Luke and Darth Vader fight the ultimate battle between good and evil.

It's a marriage made in a galaxy far, far away: phenomenal Scanimation meets Star Wars, the enduring epic that's sold $42 billion in ticket sales and earned the title #1 Boys Action Toy License of all time. Created by Rufus Butler Seder, Star Wars: A Scanimation Book presents 12 of the most memorable scenes, in a landscape, i.e., movie format. It's an homage from an artist obsessed with the earliest forms of capturing visual motion to an artist obsessed with the most advanced. But that's not what young fans will care about—this is having pure movie magic in the palm of your hand, to replay again and again.