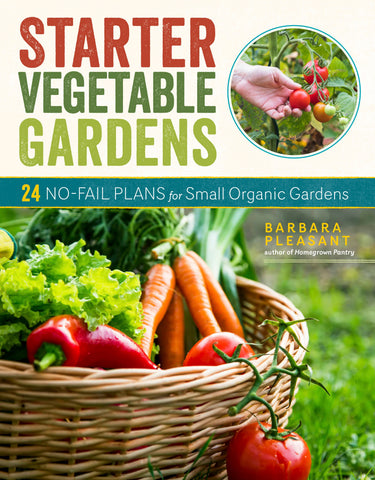 Starter Vegetable Gardens, 2nd Edition
Best-selling gardening author Barbara Pleasant makes organic vegetable gardening easy, fun, and rewarding with detailed planting and care designs for 24 beginner-friendly gardens to fit any site, whether it's a tiny side yard, a border, a trellis alongside the house, or a front yard.

From exactly what plants (and how many) to buy, where and when to plant them, and how to care for each vegetable throughout the season, Pleasant encourages readers to start small, grow the food they love, and expand their plant selection as their skills develop. Specially tailored plans offer choices to fit a wide range of sites and food preferences, from the Front-Yard Food Supply to the Marinara Medley, Sweet Corn & Company, and High-Value Verticals.There's a plan and plant selection to fit every gardener's passion. Detailed plot plans show progressive stages for how each garden can be expanded gradually over the course of three years, ensuring that beginning gardeners will experience success and satisfaction without being overwhelmed by an over-ambitious plan at the start.