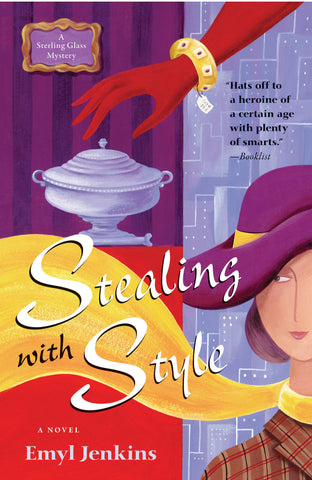 Stealing with Style
Sterling Glass has built a nice appraisal business in her small Virginia town. She's sought after to examine antiques, research their history, present her clients with approximate values, and help them distinguish good antiques from not so good ones. And when family skeletons are unearthed among the heirlooms, she is the soul of discretion. It's a world she navigates with ease.

But that's before she's called in to examine a diamond brooch found tucked inside an oven mitt over at the Salvation Army thrift store. And before the appraisal of an extremely modest estate turns up a tea urn—hidden inside a basket—worth at least fifty grand.

Things aren't adding up, and Sterling, never one to let go of loose ends, starts asking questions. It's not long before she uncovers an intricate plot involving a slew of antique pieces, the oldest families in Leemont, some sophisticated scammers, crooked antiques dealers, and shifty people at the best New York auction houses. Add to that one elderly man who's just trying to preserve his family's treasured collection of bronze and ivory Art Deco sculptures, and suddenly Sterling finds herself ensnared in a mystery laced with greed, deceit, and danger.

Stealing with Style, the first in the Sterling Glass series, introduces a writer of great wit who has a grand sense of the mystery hidden in our most treasured possessions.