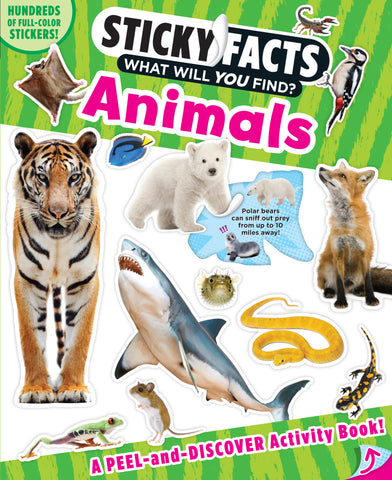 Sticky Facts: Animals
A totally new idea in sticker books, combining the joy of learning with the joy of stickers.

It's an innovative, kid-friendly approach to beloved topics for ages 6 and up, featuring a cutting-edge sticker sheet design that allows for text and color images to appear underneath the sticker. Here's how it works: Read a question, then peel off the corresponding sticker to reveal the answer underneath. The fun doesn't stop there—place the sticker on the facing activity page to create a book of facts and images that can be enjoyed again and again. Once all the stickers are peeled, kids are left with a beautifully designed, information-rich book full of diagrams, facts, and personalized pages to read again and again.

In Sticky Facts: Animals, with its pygmy marmosets and the deadly black mamba, meerkats, orangutans, and the giant squid (with eyes as big as a soccer ball!), here are some of the most fascinating animals in the world—tundra to savanna to rain forest to the desert—along with a new world of information.