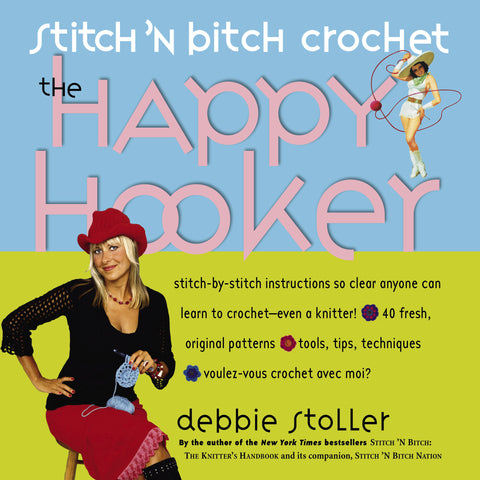 Stitch 'N Bitch Crochet: The Happy Hooker
Debbie does crochet! Debbie Stoller, the "knitting superstar," has been leading an entire movement of hip young knitters with her New York Times bestseller Stitch 'n Bitch and its follow-up, Stitch 'n Bitch Nation, together with over 521,000 copies in print. But guess what? For every one knitter in the world there are three crocheters—which translates into millions of hip, crafty, 18- to 35-year-olds ready to be happy hookers with Stitch 'n Bitch attitude, sexiness, ingenuity, and cool.

Written in the author's cheeky chick style, this heavily illustrated book—featuring four-color photographs and instructional illustrations throughout—is chock-full of instruction, inspiration, and to-die-for designs, from a Fishnet Skullcap to a lacy evening wrap. For knitters and new crafters exploring the hook comes the primer: the advantages of crochet and the ways in which knitters (and nonknitters) benefit by learning this sister craft; a discussion of tools; all the cool yarns available, and what the different gauges mean; plus basic techniques and stitch patterns—including the chain stitch, picot, flowers, filet crochet, changing yarns, and finishing. Then come 40 fabulous, funky projects—the kind that make Stitch 'n Bitch rule—for crocheters: Pom Pom Capelet, Retro Clutch Purse, Anarchy Irony Hat, Ms. Pac Man Change Purses, Doris Daymat, Va-Va-Va Voom Bikini, Animal I-Pod Cozies, Kid's Sock Monkey Poncho.

No, these aren't your grandma's doilies.