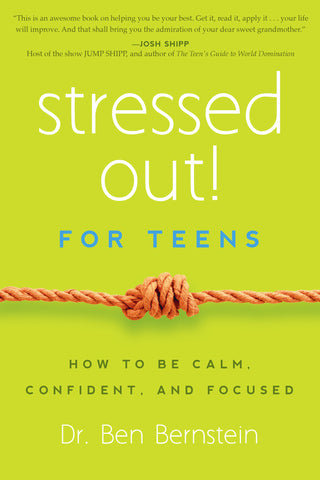 Stressed Out! For Teens
The world's teenagers have never been so challenged as they are today. The constant demands of parents, school, work, peers, social media, athletics, music, etc. has created a generation who, while tremendously capable, are also tremendously stressed. Today's teens are expected to not only do it all but to do it now.
Having personally coached thousands of students over his years as an educator and a professional performance coach, Dr. Bernstein (Dr. B) understands and connects with today's young adults. He knows they are intelligent, talented and full of creative energy and he uses his decades of experience in Stressed Out! For Teens to help teen's succeed.
Stressed Out! For Teens shares principles and skills that help teens discover their higher potential and learn how to be calm, confident and focused in whatever situation they find themselves. Teens will learn the same techniques that all top athletes, musicians, business leaders and other successful people practice. As teens implement the tools taught in Stressed Out! For Teens they will find a roadmap to achieve their potential and be successful in all aspects of their lives.