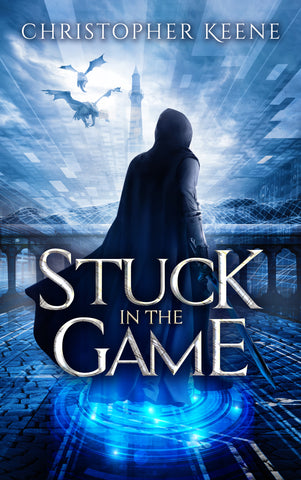 Stuck in the Game
"Fans of LitRPG and video games need to be reading Christopher Keene." —Paul Mannering, President of SpecFicNZ, author of Engines of Empathy
After a terrible car accident paralyzes seventeen-year-old Noah Newbolt, he is hooked up to the innovative Dream Engine—a virtual reality helmet that immerses the player in an online fantasy game. The Dream Engine keeps Noah's mind alive while doctors frantically work to heal his body, but dying in the game could send Noah into a coma, forever.
Meanwhile, Noah's girlfriend, Sue, is suffering injuries from the same car crash, and the doctors grow confused when she seemingly fails to connect to the game. Then Noah encounters a mysterious avatar who suggests the last remnants of Sue's consciousness are being held prisoner in the most dangerous part of the game.
Noah takes it upon himself to rescue Sue, allying himself with a group of high-level players. But as he rises through the ranks, his high status earns him the ire of top players across the world. Can Noah stay alive—and awake—long enough to save Sue and escape the game?
"An interesting new take on a classic concept and one of the few young adult-friendly LitRPGs out there. In Stuck in the Game, things are not what they seem!" —Apollos Thorne, author of Codename: Freedom and Underworld: Level Up or Die!
"Keene's Stuck in the Game is a fun romp through a great fantasy world. The premise is unique, the pacing superb, the action tight. The pages turn themselves!" —Harmon Cooper, author of The Feedback Loop series, Fantasy Online series, and The Last Warrior of Unigaea trilogy