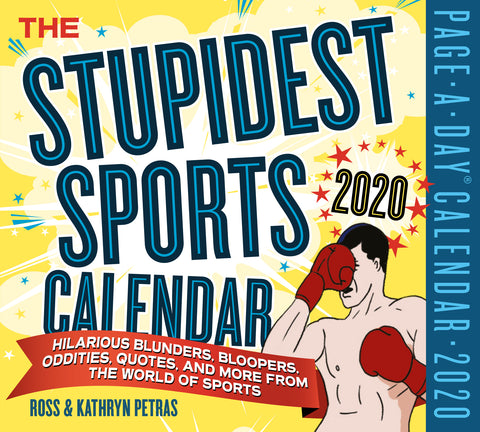 The Stupidest Sports Page-A-Day Calendar 2020
Embarrassing achievements, regrettable plays, lamest excuses, improbable memorabilia, and more!

Feel the rush of endorphins every day—the endorphins from laughing at hilarious sports misses, that is. Like a year-long blooper reel, Stupidest Sports is the calendar for true-blue sports fans with a sense of humor, in a hilarious collection of astoundingly unvictorious moments, not-so-great plays, and stunts gone oh-so-wrong. With idiotic injuries: Infielder Bret Barberie burns his eyes with hot sauce–covered nachos and gets benched. Weird rules: If you vomit on a squash court, you automatically lose. Shows of jock airheadedness: Soccer is like chess but without the dice.—German soccer player Lukas Podolski. And more guffaws, from Ross and Kathryn Petras, authors of The Stupidest Sports Book of All Time.