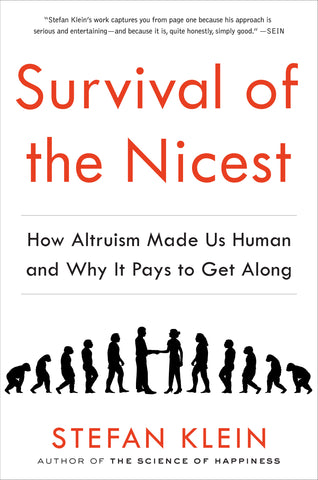 Survival of the Nicest
A Publishers Weekly Best Book of 2014

This revelatory tour de force by an acclaimed and internationally bestselling science writer upends our understanding of "survival of the fittest"—and invites us all to think and act more altruistically

The phrase "survival of the fittest" conjures an image of the most cutthroat individuals rising to the top. But Stefan Klein, author of the #1 international bestseller The Science of Happiness, makes the startling assertion that altruism is the key to lasting personal and societal success. In fact, altruism defines us: Natural selection favored those early humans who cooperated in groups, and with survival more assured, our altruistic ancestors were free to devote brainpower to developing intelligence, language, and culture—our very humanity.

Klein's groundbreaking findings lead him to a vexing question: If we're really hard-wired to act for one another's benefit, why aren't we all getting along? He believes we've learned to mistrust our instincts because success is so often attributed to selfish ambition, and with an extraordinary array of material—current research on genetics and the brain, economics, social psychology, behavioral and anthropological experiments, history, and modern culture—he makes the case that generosity for its own sake remains the best way to thrive.