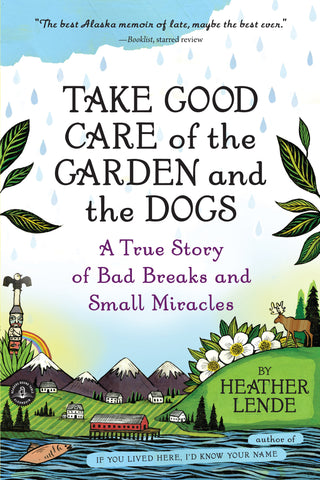 Take Good Care of the Garden and the Dogs
"Here is the real thing — good old-fashioned American values coming from small-town Alaska." —The Boston Globe

The Alaskan landscape—so vast, dramatic, and unbelievable—may be the reason the people in Haines, Alaska (population 2,400), so often discuss the meaning of life. Heather Lende thinks it helps make life mean more. Since her bestselling first book, If You Lived Here, I'd Know Your Name, a near-fatal bicycle accident has given Lende a few more reasons to consider matters both spiritual and temporal. Her idea of spirituality is rooted in community, and here she explores faith and forgiveness, loss and devotion—as well as raising totem poles, canning salmon, and other distinctly Alaskan adventures. Lende's irrepressible spirit, her wry humor, and her commitment to living a life on the edge of the world resonate on every page. Like her own mother's last wish—take good care of the garden and dogs—Lende's writing, so honest and unadorned, deepens our understanding of what links all humanity.

Heather Lende's new book, Of Bears and Ballots: An Alaskan Adventure in Small-Town Politics is available now.