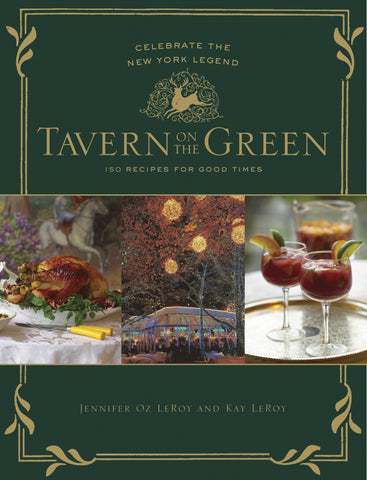 Tavern on the Green
A glorious celebration of the legendary eating spot in Manhattan's Central Park.

Nestled in Central Park, one of the most fabulous settings imaginable, Tavern on the Green has been dazzling generations of New Yorkers and visitors with its inventive, eclectic menu and playful decor. Some 700,000 guests dine every year at this one-of-a-kind restaurant, which has also played host to countless weddings and birthday parties, Broadway opening nights and glamorous afterparties, and many other memorable events.

This enchanting souvenir volume captures all of Tavern on the Green's rich history— from its origins in the 1870s as a shelter for the sheep that grazed in the nearby Sheep Meadow to its reincarnation as a restaurant in the 1930s and rebirth in the 1970s as the glistening jewel of the great restaurateur/showman Warner LeRoy.

Now, for the first time, Tavern's memorable food—including their Grilled Butterflied Leg of Lamb with Red Wine-Garlic Butter, Roasted Prosciutto-Wrapped Scallops, Marathon Pasta (served each year on the eve of the New York race), and Sliced Duck Breasts with Shallot-Ginger Glaze—can be made at home. Menus and entertaining and decorating tips show readers how to impress guests for any special occasion. With beautiful photography and charming stories about many of the boldface names who've eaten at Tavern over the years (Madonna, Reggie Jackson, Rudolph Giuliani, John Gotti, Brooke Astor, and more), this keepsake is the perfect gift for the many tourists who've had the time of their life there, as well as for New Yorkers looking to bring the unforgettable experience home.