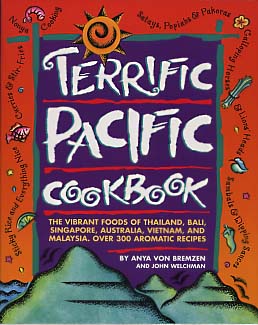 Terrific Pacific Cookbook
The Pacific is the Mediterranean of the 1990s. Its where the new ideas in food are coming from. Its hot, light, fresh, exotic, and energetic. Its Thai, Vietnamese, Australian, Malaysian and Indonesian. Its Chinese-influenced, Indian-influenced, Japanese-influenced. Now Anya von Bremzen and John Welchman, award-winning authors of Please to the Table, present the terrific pacific in over over 260 glorious recipes and dozens of essays on spices, markets, pantries, techniques, and cultural traditions. Terrific Pacific is for people who've come to love the citrusy flavors of lemon grass and kaffir limes; who want to use more chilies, ginger, cilantro, spice rubs, and pastes; who are curious about curries. Visiting four-star chefs in Australia and roadside vendors in Penang, tea houses in Singapores old Chinatown and home cooks in Vietnam--wherever the culinary melting pot bubbles--the authors offer a spectacular marriage of flavors. And in an age of great treats, terrific pacific desserts stand out for being both simple and exotic. Selection of the Book-of-the-Month Club's HomeStyle Books, and the Better Homes & Gardens Family Book Service.
52,000 copies in print.