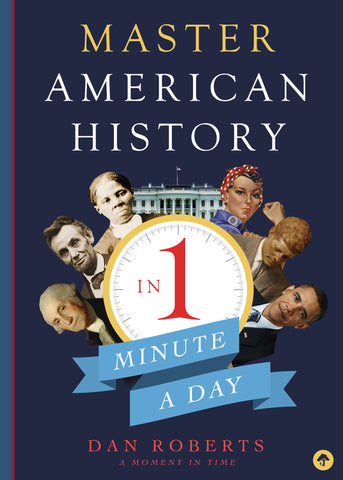 Master American History in 1 Minute a Day
Join acclaimed historian Dan Roberts—known to millions as the voice of the A Moment in Time radio series—on a bite-sized romp through 500 years of American history. With just one minute a day, you can master all the essential facts of America's founding, Civil War, world conflicts, homefront transformations, and more!

With the same insightful, engaging 1-minute essays and a wide-ranging look into the major events in the United States of America, Master American History in 1 Minute a Day, Expanded Edition is here! This revised edition has been updated to include the momentous events in the last five years, including the murder of George Floyd and subsequent national demand for racial equity and police reform; the COVID-19 pandemic; the Trump presidency; SpaceX; and the January 6 Insurrection. Additional chapters have been added to more deeply explore the Jim Crow South, Juneteenth, FDR's deportation of American citizens of Mexican descent, and more.