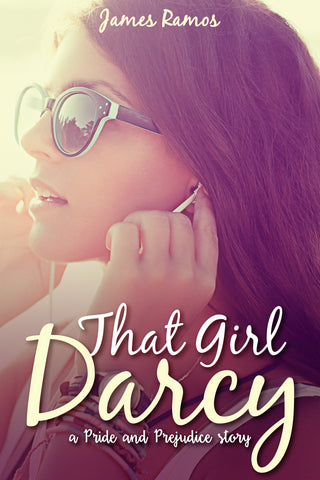 That Girl, Darcy
A Pride and Prejudice Story

"All your favorite characters are here, but somehow it feels like you're meeting them for the very first time. I adored James Ramos's That Girl, Darcy." - Heidi Doxey, author of Liam Darcy, I Loathe You

"Love. You can't tell when you'll catch it or who you'll fall for. But once it happens, it'll change everything for you."

IT IS A TRUTH UNIVERSALLY ACKNOWLEDGED that geeky guys never get to date the pretty girls. 

Elliott Bennett is entering his senior year and finding a girlfriend is the last thing on his mind. That is, until Darcy Fitzwilliam moves into the only mansion in the neighborhood. When Elliott meets Darcy at a party, he finds out that she isn't into skateboarding (which he lives for), she hates science fiction (which he loves), and she thinks his friends are a pack of morons (which, honestly, might be half true)—and yet, there's something irritatingly intriguing about her. 

This gender-swapped Pride and Prejudice retelling brings back all the original characters in a quirky modern day setting that holds true to the original story while bringing new humor and misunderstandings. 

That Girl, Darcy is a Teen High School Romance.