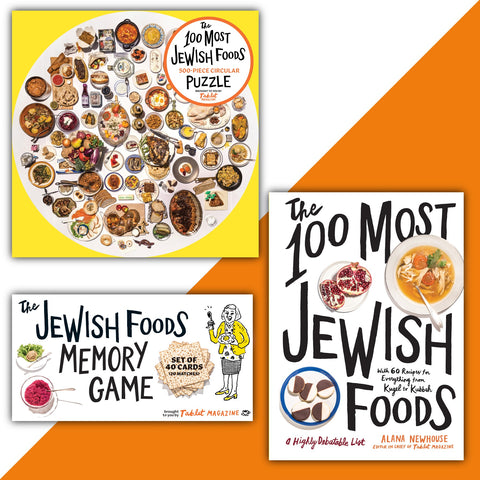 The 100 Most Jewish Foods Gift Set: Book, Game and Puzzle
Website exclusive bundle.
Celebrate Jewish heritage deliciously with a set including a book, an all-ages memory game, and a jigsaw puzzle featuring the 100 Most Jewish Foods.

The 100 Most Jewish Foods describes not the most popular, most tasty, or even most enduring foods—but a list of the most significant foods cultuarlly and historically to the Jewish people, explored with essays, recipes, and context. From the editors of Tablet. "Your gift giv­ing prob­lems are now over—just stock up on The 100 Most Jew­ish Foods. . . . The appro­pri­ate gift for any occa­sion." —Jewish Book Council

The 100 Most Jewish Foods 500-Piece Circular Puzzle features a giant table with all 100 of Tablet's "highly debatable" list of most Jewish foods. Dig in!

The Most Jewish Foods Memory Gameincludes 40 cards featuring photos and illustrations, so players can match bagel to bagel, and lox to lox, learning the Hebrew words for each food as they go. For all ages!