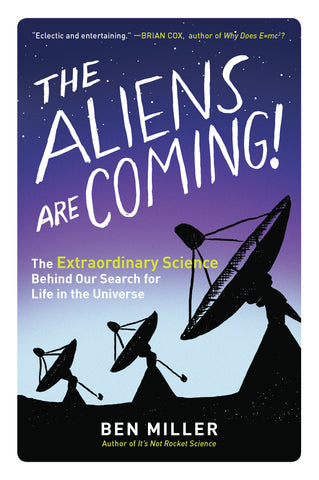 The Aliens Are Coming!
Actor and bestselling science writer Ben Miller takes readers to the cutting edge of one of the greatest questions of all: Is there life beyond Earth?
 
For millennia, we have looked up at the stars and wondered whether we are alone in the universe, but in the last few years—as our probes begin to escape the solar system, and our telescopes reveal thousands of Earthlike planets—scientists have taken huge leaps toward an answer. "Forget science fiction," author Ben Miller writes. "We are living through one of the most extraordinary revolutions in the history of science: the emergent belief of a generation of physicists, biologists, and chemists that we are not alone."
 
The Aliens Are Coming! is a refreshingly clear, hugely entertaining guide to the search for alien life. Miller looks everywhere for insight, from the Big Bang's sea of energy that somehow became living matter, to the equations that tell us Earth is not so rare, to the clues bacteria hold to how life started. And he makes the case that our growing understanding of life itself will help us predict whether it exists elsewhere, what it might look like, and when we might find it.