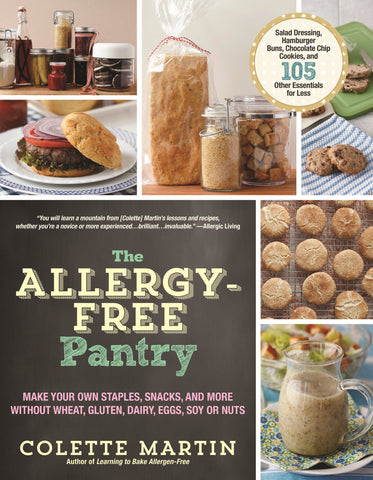 The Allergy-Free Pantry
Make your own affordable, delicious, and allergy-free staples, snacks, and meals!
After the cupboards are cleared of problem foods, most people coping with new food allergies (their own or their kids') are missing staples they have relied on for years. And even though stores are stocking more allergen-free brands, shoppers with severe or multiple allergies can read every label and still strike out—especially if they're after a particular craving or on a budget.
The good news for the 15 million Americans with food allergies is that classic treats and pantry staples can be made easily and affordably at home. From Colette Martin, the author of Learning to Bake Allergen-Free, comes The Allergy-Free Pantry—with over 100 recipes free of gluten and the top eight allergens (milk, eggs, peanuts, tree nuts, soy, wheat, fish, and shellfish), for:
Basic staples (flour blends, non-dairy milks, egg replacers, Sandwich Bread, Biscuits, Strawberry Jam, Sunflower Seed Butter)
Condiments and salad dressings (Flaxseed Mayonnaise, Ketchup, Ranch Dressing, Barbeque Sauce)
Breakfast (Pancakes, Honey Blueberry Granola, Apple Oatmeal Scones)
Crackers and cookies (Flax Crackers, Pita Chips, Chocolate Chip Cookies, Snickerdoodles)
Pasta, pizza, and freezer meals (Spinach Pasta, Cheesy Sauce, Shepherd's Pie, Meatloaf)
Desserts (Brownie Bites, Chocolate Pudding, Raspberry Fruit Roll Ups, Caramel Sauce)
Full-color photographs of every recipe and simple instructions (no advanced kitchen skills required!) make this a must-have guide to allergy-free home cooking. Refill your cupboards, and reclaim peace of mind!