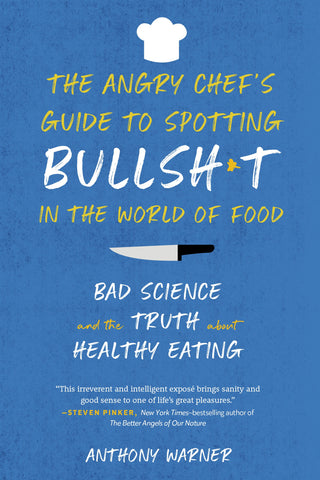 The Angry Chef's Guide to Spotting Bullsh*t in the World of Food
Just say no to nutri-nonsense

Why is Chef Anthony Warner so angry? Two words: pseudoscience bullshit. Lies about nutrition are repeated everywhere—in newspaper headlines, on celebrity blogs, even by our well-meaning friends and family. Bad science is no reason to give up good food (we miss you, bread)! It's high time to distinguish fact from crap.

As the Angry Chef, Warner skewers common food myths that range from questionable ("coconut oil is a weight-loss miracle") to patently dangerous ("autism is caused by toxins"). He also cuts down a host of fad diets—including the paleo diet and the infamous detox.

Warner goes on to explain why we're so easily misled: It has a lot to do with our instinctive craving for simple explanations and straightforward rules. With help from "Science Columbo," he pares away poisonous rhetoric and serves up the delicious, nuanced truth (with a side of saucy humor). Bon appétit!