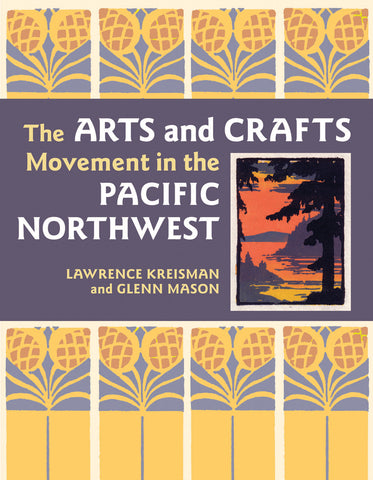 The Arts and Crafts Movement in the Pacific Northwest
This magnificent compendium is the first comprehensive exploration of the Arts and Crafts legacy in the Pacific Northwest. It traces the movement from its nineteenth-century English beginnings to its flowering in Washington and Oregon through the 1920s and beyond, weaving into a tale of idealism and devotion everything from iconic masterpieces to recent discoveries.

You will meet the architects, artists, craftspeople, and entrepreneurs in Seattle, Spokane, Portland, and smaller communities throughout the region in their own words in journal entries, letters, articles, and promotional materials of the period. Included are public and private architecture, furniture, pottery and tile, metalwork, lighting, leaded and stained glass, jewelry, textiles, basketry and the influence of Native American arts, painting and printmaking, photography, graphic arts, and book design.

The ideals of the Arts and Crafts movement—a celebration of craftsmanship and the creative process; an appreciation of sound construction, pleasing proportion, grace, and simplicity; and a comfortable rusticity that sees beauty in nature and honors indigenous materials—found fertile ground in Washington and Oregon. The inspired handiwork of anonymous amateurs and significant regional artists alike yielded a remarkable variety of progressive architect-designed residences, bungalows for everyone, and all manner of artistic and practical furnishings and accessories.

Beautifully illustrated with nearly 400 photographs and period graphics, including rare images published here for the first time, this groundbreaking volume is an authoritative reference, a provocative story, and an irresistible treasure trove for Arts and Crafts collectors and enthusiasts everywhere.