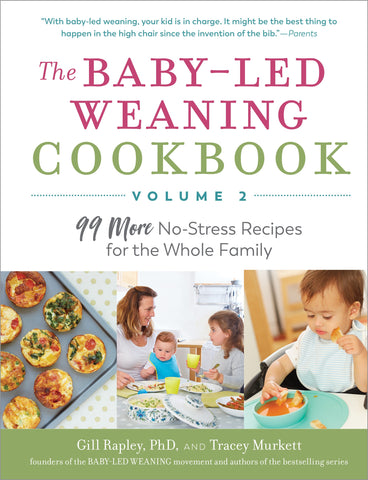 The Baby-Led Weaning Cookbook—Volume 2
Forget baby purées and spoon-feeding—your baby can join in at family mealtimes, right from the start!
Publisher's note:
The Baby-Led Weaning Cookbook—Volume 2
was previously published in hardcover as
The Baby-Led Weaning Family Cookbook.Baby-Led Weaning
is a global phenomenon! Now, here are 99
more delicious
, no-stress recipes for baby-led weaning (BLW) families to enjoy together, from the creators of the BLW movement. With these recipes, introducing your baby to solid foods is easier—and more commonsense—than ever. Be amazed as Baby explores the same foods you enjoy—how they feel, smell, and taste; how to grasp and chew them—all at his or her own pace.
In addition to recipes that are perfectly suited to growing families, Gill Rapley and Tracey Murkett review all the benefits of BLW:
It's convenient: The whole family eats the same meal—together.
It helps Baby learn: BLW builds motor skills, coordination, and confidence.
It promotes lifelong health: By teaching Baby to love a variety of foods and to gauge fullness, BLW helps prevent picky eating—and overeating—later on!