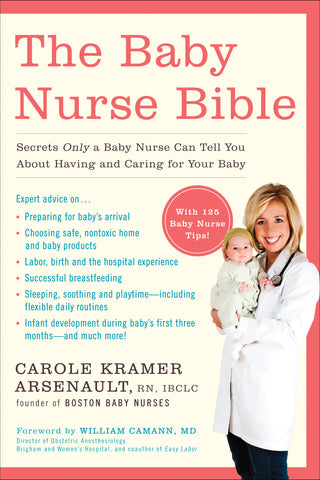 The Baby Nurse Bible
There are lots of books for expecting and new parents—but this one is something special. Carole Kramer Arsenault has devoted her career to infant and pregnancy care, and worked for many years as a labor and delivery nurse, including at Boston's Brigham and Women's Hospital. She went on to found Boston Baby Nurses, where her team of nurses has helped hundreds of first-time parents adjust to their new role. Now, The Baby Nurse Bible brings Arsenault's expert guidance to new parents everywhere. Packed with information parents need for the first trimester of pregnancy through baby's first three months, it offers:
Guidance on first decisions, including choosing a pediatrician and signing up for childbirth classes
Answers to hundreds of the most-asked questions that Arsenault fields daily
Advice on preparing for baby's arrival and choosing safe, nontoxic home and baby products
A nurse's perspective and insider tips on labor, delivery, and how to make the most of the hospital experience
A complete guide to successful breastfeeding, based on Arsenault's IBLCE certification
Flexible daily routines to help parents juggle sleeping, soothing, playtime—and time for themselves—during those first few months
Suggestions for Dad's role in the birth process and beyond
Helpful illustrations throughout, and much more!