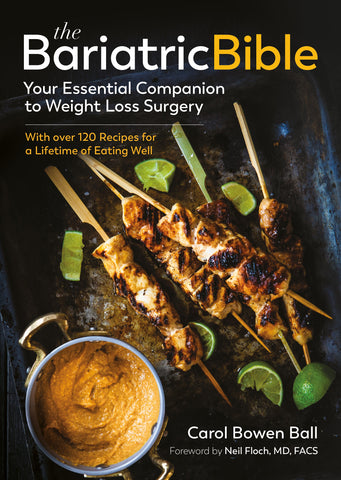 The Bariatric Bible
The ultimate one-stop guide to living and eating well, before and after weight loss surgery
If you've had—or are considering—weight loss surgery, this is the book for you. Chef and food writer Carol Bowen Ball has lost one hundred pounds since her own bariatric surgery, and in
The Bariatric Bible
, she gives you the keys to lifelong post-surgery success.
Everything you need to know beforehand: what to look for in a surgeon, what the options are (from lapband to bypass), how to prepare, and what to pack
How to manage your new diet: from cardinal rules ("protein first!") to common pitfalls (beware of "slider foods")—and which snacks to keep in your Emergency Kit
Essential lifestyle tips: how to buy clothes for your changing body, craft an exercise plan, troubleshoot dining out, and more
Over 120 healthy recipes, such as Quinoa, Nectarine, and Sizzled Halloumi Salad, Breakfast Protein Pancakes, and Lemon and Chive Hummus—color-coded by recovery stage and labeled with their protein, carbohydrate, fat, and calorie counts
The bariatric lifestyle is about more than just cooking—it requires new, healthier habits around exercise, relationships, eating out, and much more. With this book, you can unlock the secrets to lifelong health and happiness, from pre- to post-op and beyond.