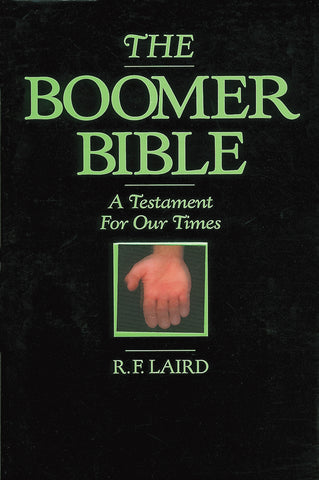 The Boomer Bible
In the beginning there was the Holy Bible
2 Which was a very good book indeed, but so many things happened since the beginning,
3 That Maybe it was time for another bible,
4 So a punk from Philadelphia wrote a new one,
5 And so it is called The Boomer Bible,
6 So there.
7 And Its Past Testament tells the history of the world, including the Book of Greeks, Book of Brits, Book of Yanks, Book of Russkies, and all the other self-proclaimed Chosen Nations,
8 And people sticking each other with pointed sticks, and acting up, which is called civilization,
9 And also about religion and art and movies and literature, and TV, and so forth, which is why there are also the Books of Pnowlege,
10 Including Psongs, Psayings, and Psomethings,
11 Written just like the other Bible but without any big unpronounceable words,
12 So that you and I might truly understand it,
13 For a change.
14 And Its Present Testament tells about the coming of Harry, and The Way of Harry,
15 Who may be the messiah everybody has been waiting for,
16 Unless he really isn't,
17 Which is hard to say,
18 So there.
19 And there is also The Book of Harrier Brayer together with the Harrier Hymnal,
20 And another Testament too,
21 And Concordance, and a lenticular hand on the cover.
22 And It is not for the faint of heart,
23 Or the easily offended,
24 Or the priggish or the prudish,
25 But who cares,
26 Because neither was Candide, or Swift's A Modest Proposal, or Rabelais, or Lenny Bruce
28 Or all the other satires and satirists who felt the need to warn us when we have gone astray,
29 Which we have,
29 Which you'll know all about,
31 If you read your Boomer Bible,
32 Or there.

Over 87,000 copies in print.