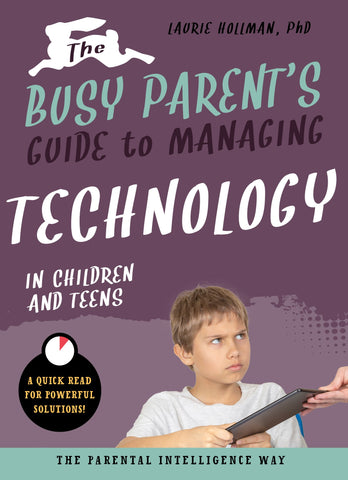 The Busy Parent's Guide to Managing Technology with Children and Teens
How does technology impact kids' mental health and physical well-being? How do screens affect babies? How can I protect my children from cyberbullying? What are the positive effects of technology? How can we bridge the technology generation gap?
With aggregate case studies and the latest research, psychoanalyst Laurie Hollman, PhD, answers these questions and many more in this contemporary, up-to-date mini book for parents learning to manage technology with their children and teens.
Parents who follow the 5 steps of The Parental Intelligence Way become meaning-makers deeply interested in what goes on in their children's minds and how their brains work as they use technology. In this helpful guide, parents will come to understand new research findings that are both exciting and overwhelming. As these findings become more complete in the decades to come, utilizing Parental Intelligence will help parents continue to discover their children's capabilities as they learn the meaning behind their kids' technological behaviors and conflicts.