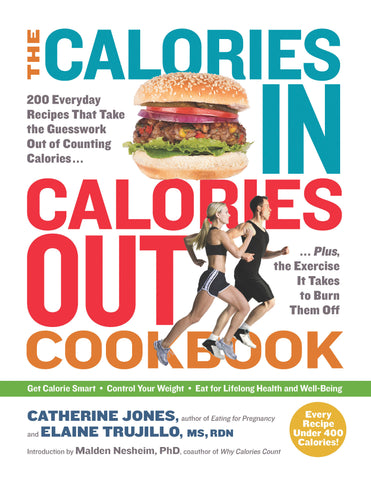 The Calories In, Calories Out Cookbook
More Than a Cookbook—A One-of-a-Kind Toolkit to Help You Make Smart Calorie Decisions Every Time You Eat

You know that balancing the calories you take in and burn off is the foundation of weight control. But actually achieving that balance between eating and exercise is a daily challenge for most of us. Now, The Calories In, Calories Out Cookbook provides a fresh, sane approach for everyone seeking good health—and great food.

Here is an essential repertoire of 200 smart recipes—nutrient-rich, delicious, foolproof, and ideal for busy individuals and families. Every recipe tells you its calorie count—and also tells you how many minutes of walking or jogging it takes for a woman or man to burn those calories off, so you'll be able to visualize what calories mean as never before. All the recipes are below 400 calories per serving—and most are below 200!

The Calories In, Calories Out Cookbook also delivers:
An introduction to the world of calories—what they are, how our bodies use them, and why we don't have to exercise off every last calorie we eat—by distinguished Cornell nutrition professor and author Malden Nesheim, PhD
A guide to determining your daily calorie and exercise needs
Helpful nutrition stats (including diabetic exchanges) for every recipe
"Calorie combo"and "calorie cut" suggestions that help you formulate daily and weekly menus that fit your calorie needs
Plenty of vegetarian and gluten-free options
Dozens of tips on ingredients, equipment, prep, and cooking
An extensive appendix of nearly 1,000 popular foods and drinks with their calorie values and nutritional info—and much, much more!