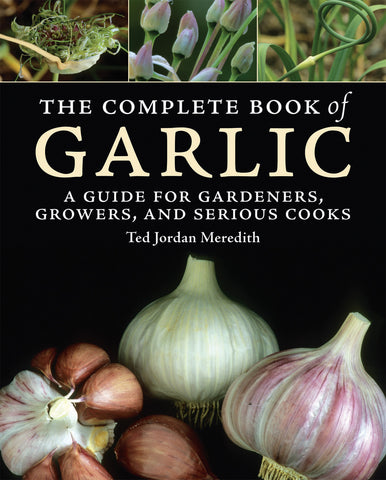 The Complete Book of Garlic
An essential element in cuisines around the world, garlic enjoys near mythic status among cooks, chefs, foodies, and enthusiasts of natural remedies. Worldwide, garlic cultivation occupies over 2 million acres of farmland, an area that has more than doubled since 1970. Yet even garlic fanciers may be unable to tell hardneck from softneck, or Purple Stripe from Rocambole, not to mention the hundreds of cultivated varieties grown today, many with distinct differences in taste and character.

In fact, the wealth of garlic varieties in nearly a dozen horticultural groups rivals that of corn, carrots, apples, and peaches. This book is the most comprehensive and in-depth guide available to what surely should be the next gourmet frontier. From 'Ajo Rojo' to 'Zemo', Meredith presents illustrated profiles of nearly 150 cultivars. Detailed chapters cover natural history, the history of garlic in cultivation, the nuances of cuisine and culture, therapeutic benefits, plant structure, how to cultivate, curing and storage, taxonomy, pests and diseases, and chemistry.

Especially useful are the Quick Guides, which summarize information on growing and buying garlic and provide recommendations for the best-tasting cultivars for specific uses and climates. Lists of garlic sources and organizations are a boon to the aficionado. Whether you share Ted Jordan Meredith's "garlic affliction" or just find the pungent bulb indispensable, you'll understand it as never before with this meticulously researched, lovingly written exploration.