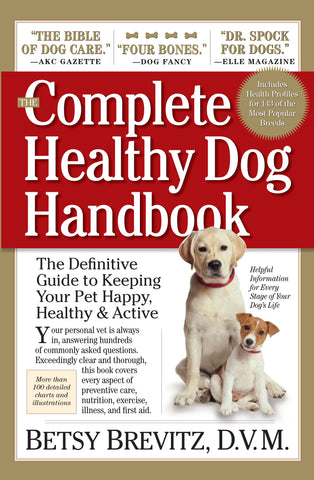 The Complete Healthy Dog Handbook
The Complete Healthy Dog Handbook is a superb, reassuring, and comprehensive work. "Dr. Spock for dogs."—Elle magazine wrote of its first edition, originally published as The Hound Health Handbook, and now completely revised and updated.

Today's dog owners are more attuned to their pets' health and well-being than ever before. And with good reason: Americans spend upward of $10 billion annually on their canine companions. The Complete Healthy Dog Handbook is the one essential and truly readable book for these devoted dog owners. Surpassingly clear and complete, with more than 100 illustrations and diagrams, it covers everything from choosing the best dog to puppy care, nutrition, vaccines, behavior, first aid, and senior care, plus thorough discussions of more than 100 canine illnesses. Reflecting the latest advances in veterinary medicine, this edition offers up-to-the-minute advice on "design dog" breeds, pet food safety, homemade diets, changing vaccine protocols, new medications for allergies, car sickness, obesity, and heart disease, developments in surgery and cancer treatment, pet insurance, and more.

With The Complete Healthy Dog Handbook, the vet is always in.