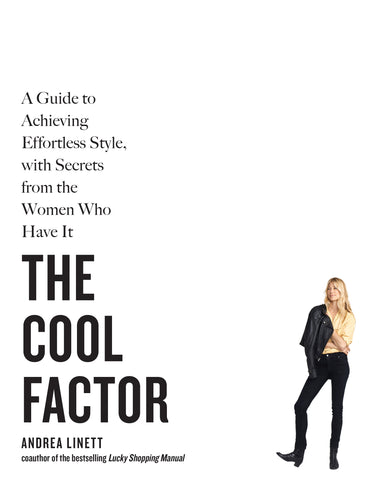 The Cool Factor
"An excellent idea for a book. . . . Next time I spend more than $40 on an article of clothing, I'll run it by Linett first."
—The New York Times Book Review
 
In a culture where trends are born and die every minute, maintaining style and effortlessness at every age requires that little extra something—the cool factor. Being "cool" isn't about chasing trends or defying age but about following a few key guidelines. Yes, the cool factor is a skill that can be learned!

In this photo-packed guide, Andrea Linett, a famed personal stylist and founding creative director of Lucky magazine, offers easy-to-implement, actionable tips that will change the way women dress. The tips are modeled by real-life style icons like Kim Gordon of Sonic Youth and Christene Barberich, founder of Refinery29, as Andrea highlights the ingenious ways in which they skillfully pile on layers, or dress up denim for work or a party. The book is organized into chapters that include wardrobe classics, denim, leather, suits, dressing up, and accessories, and features style hacks that turn an outfit into a masterpiece (choosing shoes that instantly slim you, combining tough and feminine pieces, and accessorizing a day-to-night look). Packed with useful lists and examples, this guide is the would-be stylish woman's best friend.