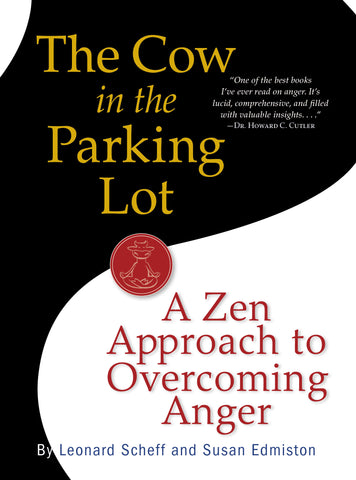 The Cow in the Parking Lot: A Zen Approach to Overcoming Anger
Don't get mad. Get calm.

Ask yourself: "Do I really want to be angry?" Leonard Scheff, a trial attorney who used anger to fuel his courtroom persona, realized the answer had to be no. Anger is toxic. Anger is in the eyes of the beholder.

Using simple Buddhist principles and applying them in a way that is easy for non-Buddhists to understand and put into practice, Scheff and Susan Edmiston have created an interactive book that helps readers change perspective, step-by-step, so that they can replace the anger in their lives with newfound happiness. Based on the Transforming Anger workshop Shceff created, The Cow in the Parking Lot shows how anger is based on unmet demands, from the reasonable (we want love from our partner) to the irrational (we want respect from a total stranger) to the impossible (we want someone to fix everything in our life).
The authors show how, once we identify our real unmet demands, we can dissolve the anger. The same is true for our "buttons"—once we understand them, we can defuse what happens when they're pushed.

We learn to laugh at ourselves, a critical early step in changing angry behavior. We learn how to deal with the anger of others, and ultimately how to transform anger into compassion.

And finally, we learn the liberating truth: Only you can make yourself angry.