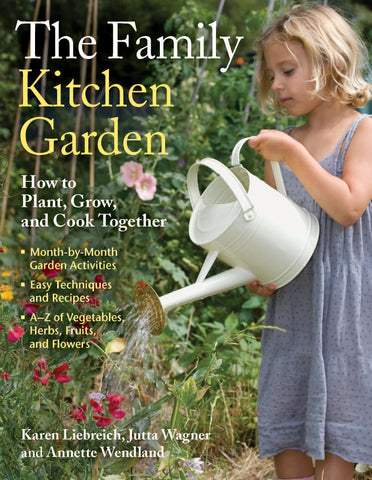 The Family Kitchen Garden
Everyone wants healthy children who choose potatoes over chips and oranges over Oreos, but it isn't always easy to convince a picky child to try something new.

The Family Kitchen Garden integrates the garden and kitchen in a simple, fun way that parents and children can enjoy together. By teaching kids how to garden, they will be more likely to eat what they grow -- what a rewarding way to encourage healthy foods!

Unlike other guides to gardening with children, these are not simple projects just for kids. Rather, the authors believe that kids can do -- and will enjoy -- the same type of gardening that adults do. Part One focuses on the nitty-gritty of gardening with kids: how to keep sessions short, tips on how much to grow, and important safety precautions. Part Two is a month-by-month guide on what to sow, plant, harvest, and eat. Seasonal recipes include nutritious, kid-friendly foods like parsnip chips, rhubarb cake, and homemade ketchup. Part Three is an A-Z guide to vegetables, fruit, herbs, and flowers. Icons note which are plants particularly easy to grow and suitable for young children.

The Family Kitchen Garden is for parents who want to get their kids outside and for families looking for simple ways to lead a healthier life. Grab your kids and get gardening!