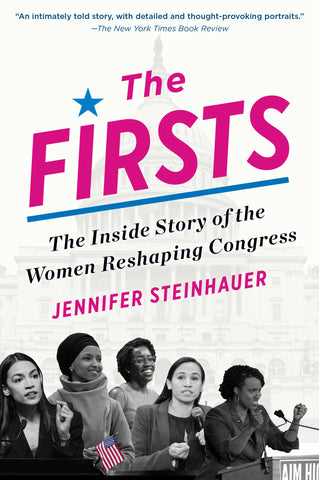 The Firsts
"An intimately told story, with detailed and thought-provoking portraits."
—The New York Times Book Review

"The Firsts stands out as one of the most important and best reported books written during the extraordinary political chapter in which we are living."
—Nicolle Wallace, author and anchor, Deadline: White House on MSNBC

NOW WITH UPDATED EPILOGUE

In the November 2018 midterms, the greatest number of women in history were elected to Congress. It was a group diverse in background, age, experience, and ideology. From Alexandria Ocasio-Cortez and "the Squad" to a group with national security backgrounds calling themselves "the Badasses," from the first two Native American women
to the first two Muslim women, all were swept into office on a wave of grassroots support. 

Here, New York Times reporter Jennifer Steinhauer chronicles these women's first year in Congress, following their shift from trailblazing campaigns to the daily work of governance. In committee rooms, offices, visits back home with their constituents, and conversations in the halls of the Capitol, she probes the question: Will Washington, with its hidebound traditions and overpriced housing and petty power struggles, change the changemakers? Or will this Congress, which looks a little more like today's America, truly be the start of something new?

Vivid and smart, The Firsts delivers fresh details, inside access, historical perspective, and expert analysis as these women—inspiring, controversial, talented, and rebellious—do something surprising: make Congress essential again.